Do you have question like….
How to sell your organic products online?​
or How to sell honey online? or questions like how to sell homemade food products online? or How to sell cookies online? or even sometimes you may have questions like how to sell pre-packaged food online?
Are you one of the people who is into food product manufacturing or repacking business, planning to sell online, but not sure how to reach customers online, then this article is for you.
I wrote this article with my own experience in working for a natural food products online business.
Duration I worked for that project: 8 Months.
Month 1: Observation​
The moment project has been handed over to me; I went on observing the current status of website and asked the managing person about the current sales status.
Information I gathered:
No real customers, just employees from the parent company of that e-commerce site are buying from that website.
Does not have a social presence.
Has got an e-commerce website with the product listed in it without product images.
No promotional activity until now.
Only 5 different products updated on the website.
The main products are millet-based products.
With the information I have observed, created a strategy by observing the competitors website.
At first, I started by taking quality photos of products and did some good graphical works to make the product image to look more attractive. Then added those images to the website and made modifications to the product description to say about the benefits of taking our food products into the daily diet.
Month 2: ON-Page SEO & OFF-Page SEO:​
As I uploaded the images and made modifications to the product descriptions on the website, it looked complete to attract customers.
The next thing, I started modifying the core section of website that is adding appropriate Meta tags, Alt tags and Title tags to each and every page of the website. That's it!! ,website is completely ready for user experience.
Now it needs OFF-Page SEO:
Since it is an online food business, being social is the most important task. I have created a Facebook page, Twitter page, Instagram, Pinterest, and also a Linkedin page. Also posted a few posts on a regular interval.
And at the same time, I have configured all the needed tools to measure our website performance, i.e. Google Analytics, Google Search Console, and Google AdWords.
Month 3: Social Promotion:​
It was a time where Facebook has got more engagement, I mean during the period of 2016 to 2017. We ran Facebook ads at a cost of 300 to 500 INR optimized to get a maximum number of likes for almost 2-3 weeks. We managed to get page likes of count 2010 on Facebook. Slowly customers started engaging with us.
Month 4: First Sales Started:​
Since it is a Startup, we decided to be very reactive towards our customers to answer their doubts about our products. Apart from promotion we regularly started posting our product images through shopping post or message in different Facebook selling groups.
We observed how different post is performing in terms of enquiry, customer's response, response to rice based millet is very less, compared with millet based noodles products. It was totally inverse from what we taught would sell more.
So based on response, we started focussing more on millet noodles rather than millet rice in terms our top selling product.
The day has come; we received our first order in our platform after continuous support, discounts and clarification provided to our first customer.
Things to note: You have to be very aggressive and reactive towards your customers so they can trust your site when comparing to other major player like Amazon or Flipkart or even any other competitors website.
Then the sales started increasing from 1 to 10…
As our sale started for our platform, we noticed that the sale was not aggressive and also people actually do not know how to cook our products. They need a healthy alternative, but how to cook millets.
So we decided to connect with food bloggers to promote our products. Started messaging and calling various food bloggers who know to cook different products out of our millet-based products. We started sending our products for free to accepted food bloggers who are ready to try our products and publish a written blog or video blog on their own website.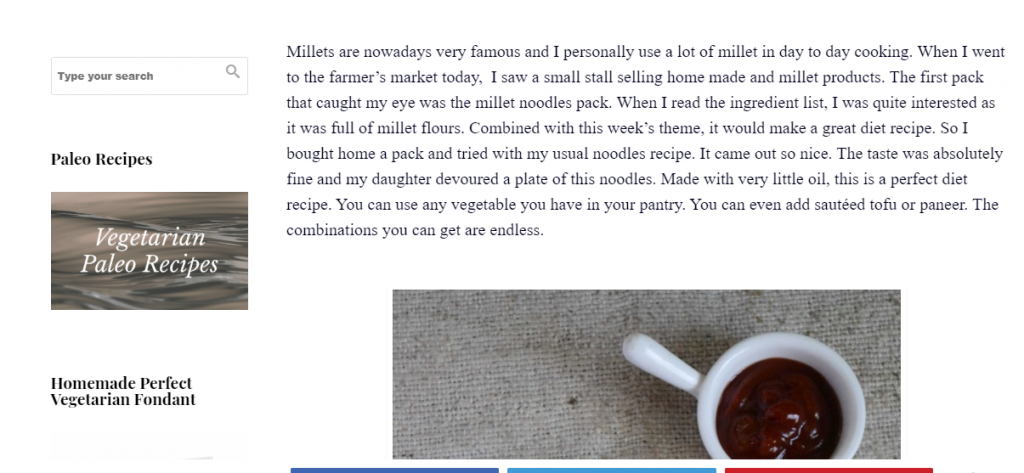 Month 6: New Strategy started paying off!!!​
The bloggers tried our products and started publishing articles in their website, and suddenly we saw great improvement in website traffic, also started receiving calls and emails to buy our products.
We also provided discount coupons to people coming from food blogger pages.
Note: Most people not sure of how to use our website, we patiently guided them for buying. Because most of our customers are old people or housewives.
Month 7: Repeat everything:​
Now we understand how this industry works, so we did continuous improvements in website and sourcing more food bloggers.
Slowly, but with consistence, our customers base increased from 10 to 80 regular customers per month.
We started attending natural food exhibition to attract customers to our website and sell products in bulk.
Month 8: Improvements​
Now we had a base, but we understand that we have to more aggressive in terms of marketing presence; we decided to promote our products in Amazon and provide products for resellers.
We added more food products to show variety to choose from, for our customers. Also started promoting our products in Google Ads.
Final Thoughts:​
I hope this article helped you understand the key things about the question, how to sell your organic products online? The strategy will change based on needs of customers, customer location and products you are offering.
Selling food products online? Be touchy and connected with your customers, win the trust of your customers, being in the food industry it is important to prove that your products are good for your customer's family health.
---
We have one more article published on this topic, i hope it will be interesting for you,